Pressure Wave Therapy in South OKC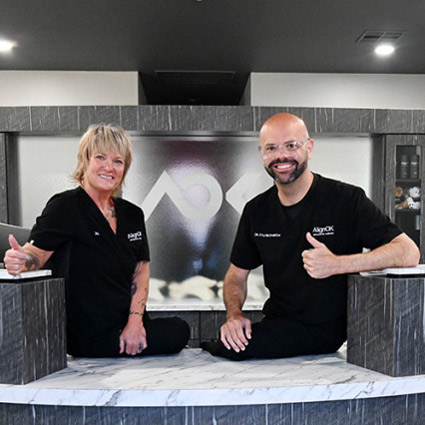 At AlignOK Chiropractic Wellness, we provide state-of-the-art technology to get our patients out of pain and back to what they love in life. We are now offering non-surgical EPAT therapy, also known as Extracorporeal Pulse Activation Technology. You may have heard this treatment referred to as Shockwave Therapy, Sound Wave Therapy, or even Pressure Wave Therapy. Catchy names for a very scientific treatment.
This therapy is one of the most advanced and highly effective non-invasive treatment methods cleared by the FDA. Using this modality, we've successfully addressed plantar fasciitis, golfer's elbow, tennis elbow, shin splints, frozen shoulder and more.
Conditions Treated
Here are the types of acute and chronic pain EPAT can treat:
Ankle pain
Back pain
Elbow pain
Foot pain
Hamstring pain
Hand pain
Heel pain
Knee pain
Neck pain
How Does It Work?
EPAT uses high-intensity sound waves that are focused on the painful areas of the body to bring about healing. The treatment works by helping to improve the regenerative potential, and boosting blood circulation to regenerate damaged tissue.
Let's say you have plantar fasciitis. The tissue of the fascia gets less pliable as you age and more stress is put on it. The EPAT softens and loosens the fascia band, making it more pliable.
What to Expect
Dr. Brotherton will perform an exam to see exactly where the problem is. Then he will treat using the EPAT. Afterward, our chiropractor typically will follow up with cold laser therapy. We feature the Erchonia FX-635 and the MEDRAY Class IV laser.
Many patients notice a difference during the first EPAT treatment. The number of sessions required depends on the condition that is being addressed. Each session takes 10-15 minutes and can vary depending on the condition that we're treating.
We've seen a 95% success rate of getting patients better with EPAT therapy."
Dr. Brotherton.
Learn More Today
Wondering how EPAT can help you? Contact us today to make an appointment!

Pressure Wave Therapy Moore, South OKC | (405) 602-8925