Meet the Team at AlignOK Chiropractic Wellness
Get to Know Us
Jill Northington, Chiropractic Assistant & Office Manager
Jill Northington is a dedicated Chiropractic Assistant and Office Manager who wears many hats at AlignOK Chiropractic Wellness, and we couldn't be happier to have her on our team.
From ensuring smooth patient flow to managing customer care, insurance matters, and appointment bookings, Jill is the backbone of the office. Her warm and welcoming demeanor puts patients at ease as she explains the various tools and products used by the skilled chiropractor she works with. With a deep passion for natural healing, Jill finds great fulfillment in helping patients choose a holistic approach to their well-being.
What sets Jill apart is her personal experience with chiropractic care. After a severe car accident left her with a neck injury at 16, she was initially apprehensive about seeking chiropractic help due to a negative experience. However, everything changed when she met Dr. Brotherton in 2016. Witnessing the incredible impact of regular adjustments on her own health, Jill became a fervent believer in the power of chiropractic care. Not only did her chronic neck pain diminish, but she also discovered that chiropractic adjustments had an astonishing ability to alleviate her debilitating migraines.
Working alongside Dr. Brotherton, Jill has found a professional relationship that surpasses expectations. Driven by a genuine concern for patients' well-being, Dr. Brotherton takes a holistic approach to healthcare. He tirelessly seeks to uncover the root causes of his patients' ailments and isn't afraid to collaborate with other healthcare professionals to ensure comprehensive care.
Outside of the office, Jill is a firm believer in the importance of self-care and rejuvenation. She indulges in pampering sessions like facials, massages, and manicures. However, her ultimate source of joy and renewal comes from spending quality time with her best friends, her family and her two adorable grandbabies. The love she feels for her grandchildren is an entirely different kind, filling her heart with the best kind of happiness.
Jill can't wait to meet you and help you achieve your goals in health. Get to know more about her when you book a visit with our practice!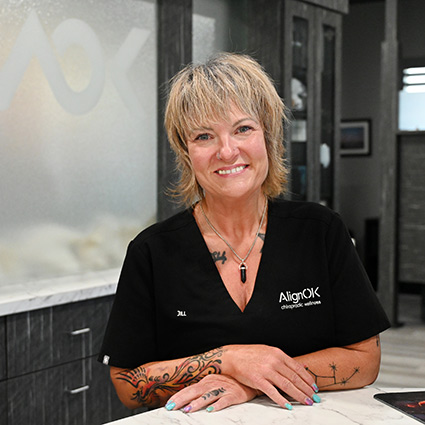 Meet the Team at AlignOK Chiropractic Wellness | (405) 602-8925